New Mexico Mountain Lion Hunts, Dangerously Big Cats!
One of the only outfitters in New Mexico with a 100% success rate with our clients, you can experience the New Mexico Mountain Lion Hunt of a lifetime, when you go after the fourth largest cat in the world. Our hunting dogs chase these 70-190 lb. cats up a tree and provide a close and ethical shot. Depending on the weather conditions our means of transportation may be pickup trucks, ATV's or Snowmobiles during the hunt.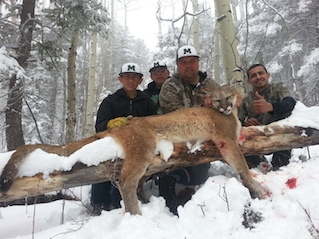 Hunting Mountain Lion in New Mexico
Sierra Blanca Outfitters offers Trophy Mountain Lion Hunts. Whether you would like to hunt rifle, handgun, or archery equipment. Sierra Blanca Outfitters offers packages for your hunting style. All hunts are fair chase here at Sierra Blanca Outfitters. We do mostly spot and stalk hunts for New Mexico Mountain Lion. We welcome all hunters; young, old, and the mobility challenged.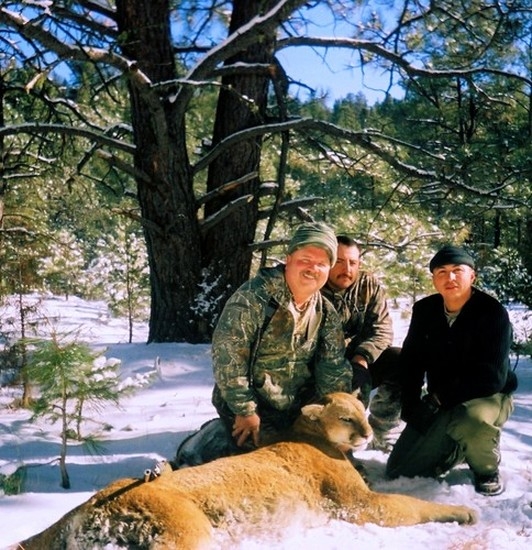 Mountain Lion Hunting Terrain
We offer mountain lion hunts in Northern New Mexico on both public and also private land. The hunts take place in the Sangre de Cristo Mountains. The peak time to hunt New Mexico Cougar is the end of January. We recommend booking early in the year for the following years hunt, as with our success rate on the Mountain Lion hunts has been outstanding!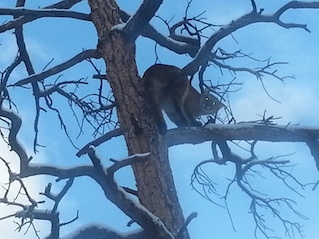 Mountain Lion Hunting Season
Dec. 1 thru March 31, 2021
Weapons - Rifle, Handgun, Archery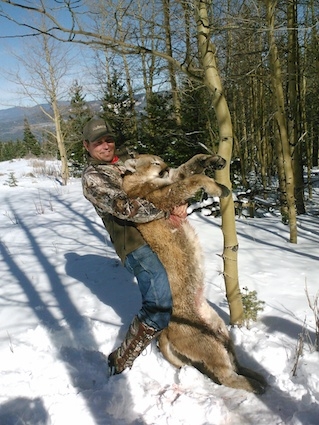 Mountain Lion Hunting Packages 2021
$6,000.00 + New Mexico State License (You Can purchase over the counter)
5 day hunt with extended fees for extra days
Includes food lodging and guide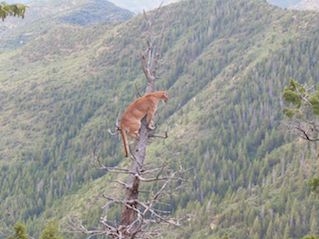 Plan your New Mexico Mountain Lion Hunt
Below are a list of items we find that our clients like to have when hunting for Mountain Lion with us.
Camo, boots, weather appropriate attire (lighter clothing for archery)
Binoculars, range finder
Rifle or bow, ammo
We Provide basic accommodations when stalking New Mexico Mountain Lion: Tents and ATV's for covering ground and retrieving trophies.
Photo Gallery
Lion hunting in New Mexico can be a great experience. Please take a moment and look over photos from our Mountain Lion hunts or visit our reference section to learn more about what our clients say about our antelope hunts at Sierra Blanca Outfitters.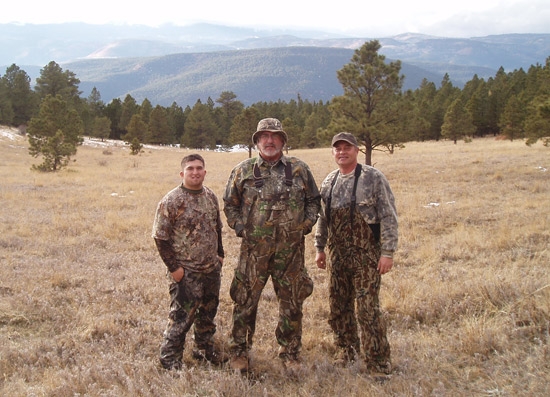 Family Run Operation
We are a family run operation here at Sierra Blanca Outfitters. Our home cooked meals, prepared by Norma Romero, will make you feel at home as we welcome you to be part of our family.
Ready to Book your Hunt?
Come experience the heart pounding thrill of chasing a dangerous big cat! For those who want a challenge check out our Mountain Lion Hunts here in New Mexico. For more information on how Sierra Blanca can provide you with this opportunity, please feel free to contact us for more information.