New Mexico Merriam Turkey Hunting
Going for your wild turkey Grand Slam? Looking to get that elusive Merriam turkey to complete the slam?
Experience the hunt of a Lifetime with Sierra Blanca Outfitters and cross the Merriam's off your list. Our success rates are high and our experienced guides will do everything possible to get you a trophy New Mexico turkey and complete your slam! These hunts are all fair chase and we hunt a combination of private and public land.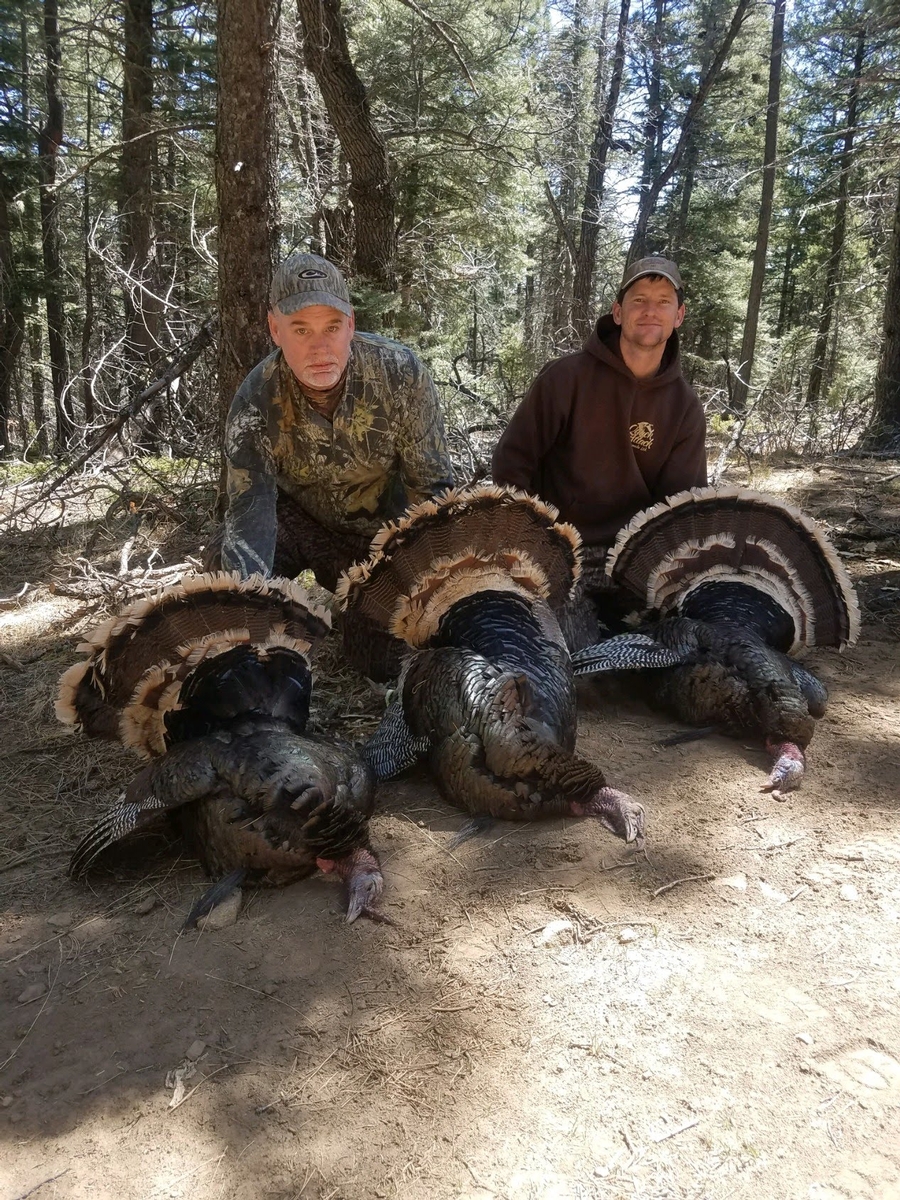 The Merriam Turkey Hunt
Sierra Blanca Outfitters offers Merriam Turkey Hunts. Whether you are looking to hunt with a rifle, handgun, or archery we gave the perfect setup and blind for every type of hunt. The hunts are wild & 100% fair chase here at Sierra Blanca and we have a lot of great turkey hunting habitat. We welcome all hunters; young, old, and the mobility challenged.
The Wild Turkey Grand Slam
The wild turkey grand slam is considered the top accomplishment for turkey hunters within North America. The Grand Slam consists of all four U.S. Subspecies - Eastern, Osceola or Florida, Rio Grande and Merriam's. For turkey hunters, the honor of a grand slam is only bestowed upon those willing to travel throughout North America, and those with a lot of patience. Whether you are looking for your Merriam's to begin your quest, or finish off your grand slam, let Sierra Blanca Outfitters be a part of the journey.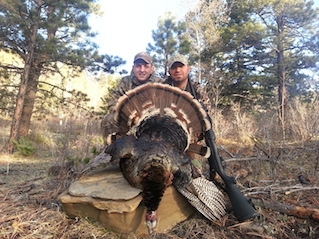 Merriam Turkey Hunting Land
Your Merriam's hunt of a lifetime may occur on either public or private land. With the abundance of turkeys, you are sure to get plenty of action on each day of your hunt. Hunt by sitting and calling in one of our man made blinds or by use of spot and stock techniques. We will use different calling techniques to bring in the birds. Yelping, clucking, purring, cackling, and more. If you have experience calling and would like, you can call in your own bird. The key to any quality Turkey hunt is good Scouting and knowledge of the terrain. Our experienced guides know where the birds are roosting and where they will be likely to travel at all hours of the day. After spending a few days of preparation and scouting for your Merriam Hunt, prior to your arrival, we will set up close to the roost using decoys.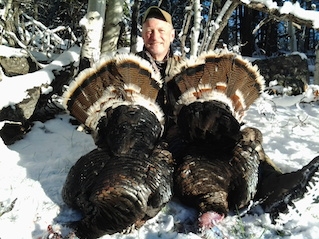 Merriam Turkey Hunting Season
April 15th thru May 10th
Weapons - Shotgun, Archery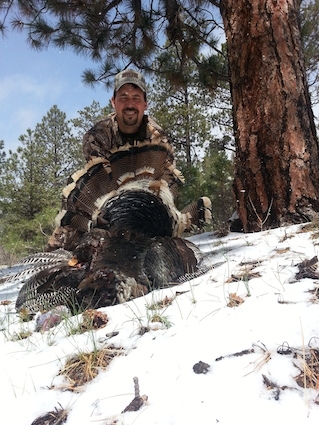 Merriam Turkey Hunting Packages
2023 all inclusive turkey hunting packages.
Non-hunting guests cost $150 / day
We recommend that hunters purchase their own tags. Although we have guaranteed landowner tags, they go fast.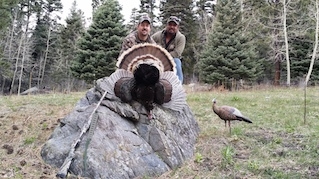 Plan your New Mexico Turkey Hunt
Below are a list of items we find that our clients like to have when hunting for Turkey with us.
Camo, boots, weather appropriate attire (lighter clothing for archery)
Binoculars, range finder
Rifle or bow, ammo
We Provide basic accommodations when stalking New Mexico Mountain Lion: Tents and ATV's for covering ground and retrieving trophies.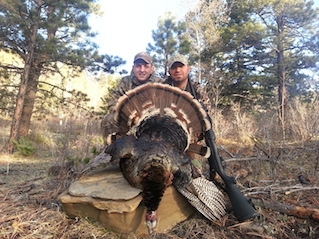 Photo Gallery
Merriam Turkey hunting in New Mexico can be a great experience. Please take a moment and look over photos from our Merriam Turkey hunts or visit our reference section to learn more about what our clients say about our turkey hunts at Sierra Blanca Outfitters.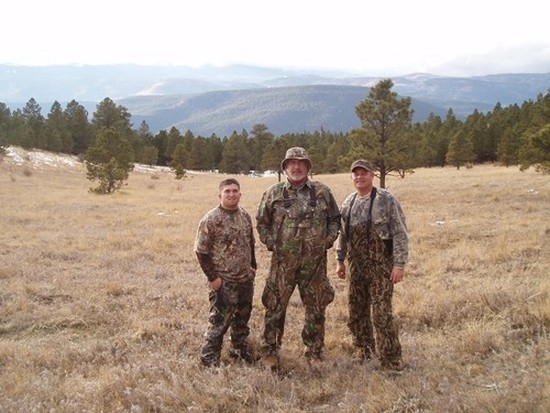 Family Run Operation
We are a family run operation here at Sierra Blanca Outfitters. Our home cooked meals, prepared by Norma Romero, will make you feel at home as we welcome you to be part of our family.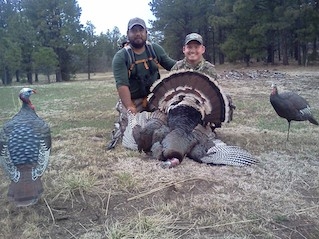 Ready to Book your Hunt?
Come complete your Turkey Grand Slam with a Merriam Turkey Hunt! For more information on how Sierra Blanca can provide you with this opportunity, please feel free to contact us for more information.